Hands-on Recipe: How to Create the Norris Ultimate Calzone Crust Tonight
Want to create a delicious dinner or even a special weekend brunch? How about making homemade Calzones? Then you are looking for the Norris Ultimate Calzone Crust. According to Wikipedia, a Calzone is "an Italian oven-baked folded pizza that originated in Naples, They are usually filled with meats, cheeses and vegetable – basically anything you would normally put on a pizza. So you can make your choice of fillings as healthy as you want. We'll show you step-by-step how to prepare a hot, fresh Calzone in your own kitchen. It's easier then you might think.
1, Start with one (1) packet of instant active yeast in bowl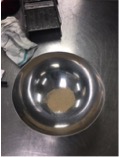 2. Slowly pour 8 ounces of 100-degree water into smaller bowl of dry yeast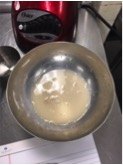 3. Cover with towel and let stand for 10 minutes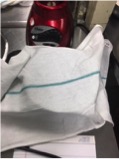 4. Place 3 Cups of Bread Flour in larger mixing bowl with a pinch of salt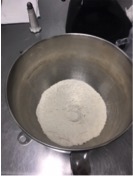 5. Take flour mixture, activated yeast and 2 ounce of olive oil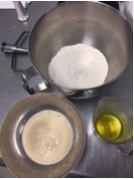 6. Pour yeast mixture and olive oil into the mixing bowl with flour and place in kitchen aid (or other mixer) with dough hook. Mix on low for 7 minutes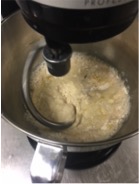 7. After 7 minutes of mixing your dough should look like this:
8. Cover bowl with kitchen towel and let rest for 1.5 hours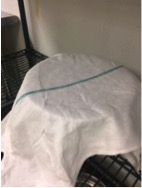 9. After the dough has rested for 1.5 hours, cut and knead into 4 ounce balls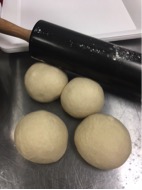 10. Use a rolling pin to form balls into 9-inch rounds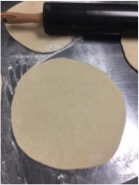 11. Place desired filling in middle of circle (shown: sausage, pepperoni and mozzarella)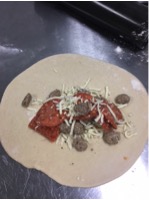 12. Fold one end over and form a half moon and pinch edges together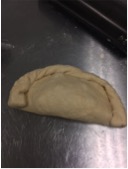 13. Brush with olive oil and minced garlic. Place in preheated 350-degree oven for 18 minutes (time may vary based on different ovens)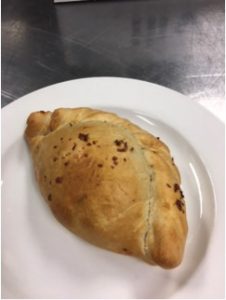 Voila and Enjoy!!!