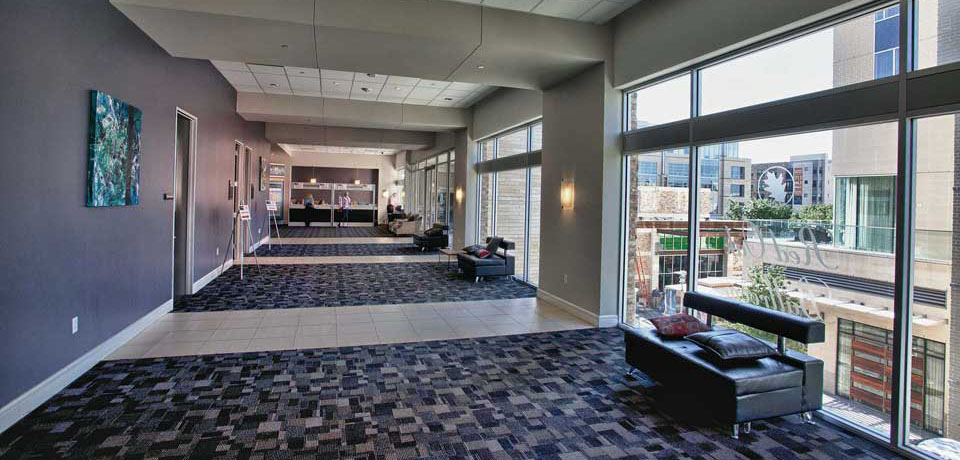 The Choice of Experienced Meeting & Event Professionals
Norris Conference Centers and the Red Oak Ballroom have been serving the Texas meeting and events market since 1990. Our clients think of us as a refreshing alternative to traditional hotel meeting space. These highly successful meeting facilities host over 11,000 events and special celebrations annually. They have been a preferred location for a number of local companies and individuals since opening. Services include on-site event planning, catering and audio/visual equipment, along with the other amenities needed to support corporate meetings, training classes, retreats, staff development programs, awards banquets, parties and other social events.
Why are Norris Conference Centers the Best?
Meeting planners have become believers of the Norris Conference Centers experience – evidenced by our history of building long-term relationships with clients who have learned they can trust us. Clients that value our service and goal of making their job easier. Norris staff members take pride in keeping up with industry trends and best practices. The result is unsurpassed, personal customer service that begins with:
Listening – which allows us to customize and create events based on the unique needs of each client
Retained knowledge – allowing us to easily duplicate previous events and past successes
Limited if not single-point contact – we are right here, visible and available, with the authority and desire to take care of our customers
Responsive to last minute requests – such as additional A/V equipment, copying training materials and meal changes – our staff is here to help
Features and Benefits of Norris Conference Centers:
Ergonomic Seating – to lessen fatigue from sitting for extended periods
Full Spectrum Lighting – to keep participants alert
Individual Room Thermostats – to maintain comfort
Soundproofed Meeting Rooms – to ensure confidentiality and attention
Day Meeting Packages – to simplify the budgeting process
Ample and Free Parking – providing convenience to participants and no hidden costs
Free High Speed/Wireless Internet Access – providing convenience to participants with no hidden costs
Norris Conference Centers – Austin offers eight (8) meeting rooms, ranging in size to accommodate groups from 2 to 4 – on up to groups of 400, depending on the event. Meeting rooms range in square footage from 430 sq. ft. meeting rooms to the 4,500 Red Oak Ballroom, ideal for large meetings and/or social events.
The Austin facility, is located at the corner of Anderson Lane and Burnet Road at Northcross Center. The location features plenty of complimentary parking to support all our clients even on fully occupied days.
Norris Conference Centers – Houston/CityCentre which is our newest facility to open, as of May 6, 2009.  Located within the CityCentre development, this venue features our first joint venture offering overnight accomodations via Hotel Sorella, connected to Norris via a sky bridge.  The CityCentre facility offers five (5) meeting rooms, including the 7,700 Red Oak Ballroom and can accommodate groups as large as 600.
The Houston/CityCentre venue is located near the corner of IH-10 West and Beltway 8, next to Studio Movie Grill.  Complimentary parking is available in the attached parking garage.
Norris Conference Centers – Houston/Westchase offers eight (8) meeting rooms, ranging in size from 580 sq. ft. to 2,400 sq. ft., and can accommodate groups from 2 on up to 200, depending on the room setup.
The Houston/Westchase, is located at the corner of Richmond Ave and Briar Park – just two blocks east of Beltway 8. The location features plenty of complimentary parking to support our numerous meeting rooms.
Norris Conference Centers – San Antonio is modeled after our highly successful Austin & Houston conference centers and includes 6 meeting rooms, 3 dedicated breakout rooms, full internet access, audio/visual equipment, full lunch, dinner and break menus, and much more.
The San Antonio Conference Center is at the Park North Shopping Center on NW Loop 410 and San Pedro – just minutes from down town and the airport. Ample, complimentary parking is available.