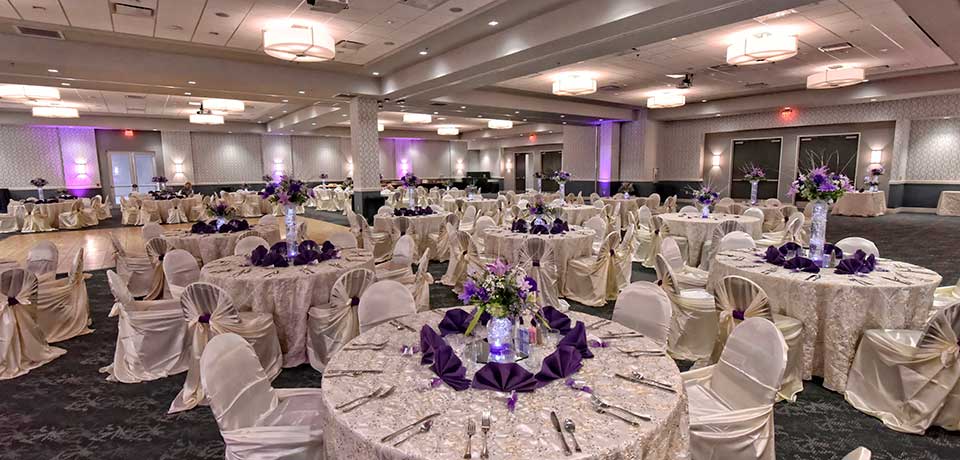 History of the Red Oak Ballroom
Where did the Red Oak Ballroom come from? After 10 years of successfully operating Norris Conference Centers in Austin and Houston, one question kept coming from our clients. "Why don't you have a ballroom to meet our social needs? One that offers the same high level of product and service we have come to expect from Norris?" We were preparing to build and move to a new facility in Austin, so it was the perfect time to add a social space to the floor plans.
Designing & Building the Space
But not just any social space, we wanted it to be functional for daytime and social events. First of all the Ballroom needed to be elegant, yet at the same time be a neutral backdrop for social events. It was important to design a space that would not overwhelm the function or use wild colors, which might clash with client decorating. We therefore created the perfect backdrop for any function that can be dressed up or simply used as is. That way clients could create their own vision of their event while having their needs met at our facility. We also needed to add pre-function space for guest arrival. So our venues feature expansive foyers creating an elegant impression from the start.
We now had the ballroom space, but what to call it? All of our meeting rooms are named after native Texas trees so we picked the Red Oak Ballroom. We also wanted the Ballroom to serve private functions, such as weddings and quinceaneras, as well as our corporate clients. But how many brides want to hold their reception at Norris Conference Centers? We figured not too many. So we decided to market the Red Oak Ballroom separately as it's own entity.  That way we could speak directly to these private social customers. Be assured though, all of the Red Oak Ballrooms are located within the Norris Conference Centers. The original Ballroom in Austin was so successful that we now have Red Oak Ballrooms in Houston and San Antonio.
What is the Red Oak Ballroom?
Located within the Norris Conference Centers in each city, the Red Oak Ballrooms feature room upgrades to support high-end social events from wedding receptions to corporate socials. Our venues feature expansive foyers, creating an elegant impression from the start and become great pre-function gathering places.
All Red Oak Ballrooms offer an elegant backdrop, designed to support the color scheme and decor of your choice.  In fact, our entire product, from facility design to catering options, was designed to allow our guests the ability to design their events without creative limitations.  For our clients needing assistance, we are here to assist.  Simply let us know what your vision is and we will be happy to assist in creating an event to remember.
The Red Oak Ballrooms have become the preferred social venues in Austin,  Houston/CityCentre and San Antonio, hosting hundreds of social events a year ranging from award banquets and company holiday parties to wedding receptions and quinceañeras.
Locations in Texas
The Red Oak Ballroom in Austin is ideal for groups of 250 for a seated meal and can accommodate up to 450 guests for a cocktail reception.
The Red Oak Ballroom Houston/CityCentre, can easily accommodate 500 guests in its 7,600 sq. ft. room – featuring magnificent views of CityCentre.  Our junior ballroom accommodates seated parties of 180 guests.  As with our other venues, larger groups are easily accommodated if the event format does not include a seated meal.
In San Antonio, the Red Oak Ballroom-A can comfortably accommodate 230 guests seated and Red Oak Ballroom-B can accommodate seated dinner parties up to 480.   For parties with guests arriving and leaving at various times, we can easily accommodate larger groups.
Visit our Red Oak Ballrooms Facebook page and become a fan!